Meet Our Board of Directors
At the beginning of the year, we welcomed Carrie Cecil to our Board of Directors.  
Born and raised on the Peninsula, Carrie met her husband while attending Thomas Nelson Community College. Together they have three small children, whom Carrie spends her days nurturing and schooling. They are members of Reformation Christian Fellowship in Newport News, where Carrie first heard of Care Net Peninsula through a Bottles4Life Campaign the church was hosting.  
God began cultivating a passion in Carrie's heart for moms in need during her own pregnancies where she suffered from Hyperemesis Gravidarum. It was during that time she came to understand firsthand how a pregnancy, planned or unplanned, is often accompanied by fear and suffering.  
"Care Net Peninsula provides hope and help to the fearful and the suffering moms in our community and I am proud to be part of this ministry!" 
We are excited to have Carrie as part of the Care Net Family and look forward to serving alongside her in the years to come and seeing how God is going to use her within the ministry. And watch out . . . she has a blackbelt in Tae Kwan Do!!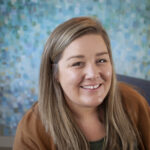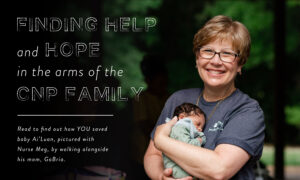 Read to find out how YOU saved baby Ai'Luan, pictured with Nurse Meg, by walking alongside his mom, GaBria.
Read More »