Dobbs vs Jackson Women's Health
Hey Care Net Family, you may have heard about a very important case being heard by the Supreme Court this Wednesday, Dec. 1st – the case of Dobbs vs Jackson Women's Health.
This case in itself will not end abortion. However, it could have a huge impact on abortion practices in our nation by taking abortion legislation out of the hands of the federal government and placing it into the hands of each state, allowing them the right to decide what they will permit. Many believe that this case could lead to the overturning of Roe vs Wade!
Read more about Dobbs vs Jackson Women's Health here
Will you join with us to:
Pray. Gather your family, friends, and even church to pray for this historic case.
Pray that as the case is being heard that the Justices' hearts will be softened to examine the truth about life and that justice will be served for the most vulnerable among us.
Pray for the lawyers that are boldly standing on the frontlines to fight on behalf of the unborn.
Pray that the Lord would raise up leaders in each of our states to stand for mothers and their children.
Pray for the Lord's mercy and forgiveness in this nation for the shedding of innocent blood.
"If you faint when under pressure, you have need of courage. Go and rescue the perishing! Be their savior! Why would you stand back and watch them stagger to their death? And why would you say, "But it's none of my business"? The one who knows you completely and judges your every motive is also the keeper of souls—and not just yours! He sees through your excuses and holds you responsible for failing to help those whose lives are threatened." Proverbs 24:10-12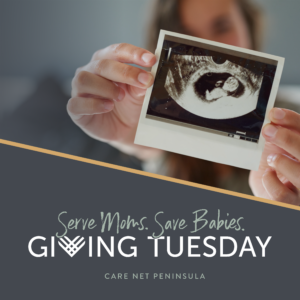 Today, on Giving Tuesday, will you join us in providing the gift of LIFE to hundreds of pre-born babies across the Peninsula?
Read More »