Meet Our New Development Director!
In the 1800's, American barns were costly and required more labor to build than a typical family could provide. Barn raising enlisted members of the community (unpaid) to help build neighbors' barns. Neighbors recruited others because the favor would eventually return to each participant.
We are thrilled to introduce our new Development Director, Anne Sych (rhymes with 'stitch'). Anne's role is similar to barn raising. Her job is to raise friends to collectively build and resource our pregnancy help mission. Anne has lived on the Peninsula for over 20 years and brings that many years of skill and experience in public relations, marketing strategy, event planning, and internet analytics (important to increasingly connect with all of us through our smart phones). She has been an 'unpaid' friend of our ministry for long time (helping 'build the barn' here) and she is now called by God to be on staff. Welcome, Anne!
Fun Facts About Anne:
Loves decorating and stages homes for fun
Born in England and named after Princess Anne
Lives in a 100-year-old house
Can fold anything back into it's original package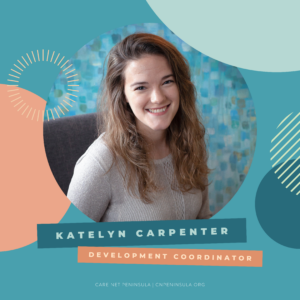 We are excited to introduce you to our newest team member, Katelyn Carpenter. Katelyn joins us as our Development Coordinator, and she is someone you will get very used to seeing and talking to as the year goes on.
Read More »