Paul Clegg to Chair Care Net Peninsula's 35th Annual Peninsula4Life Dinner
Local businessman Paul Clegg to serve as chairman at this year's annual Peninsula4Life Benefit Dinner taking place on October 21st at the Marriott City Center in Newport News.
Newport News, VA June 22, 2021 – This October 21st over 500 guests will gather at the Marriott City Center in Newport News for the 35th annual Peninsula4Life Dinner benefitting Alcove Health, the Peninsula's only no-cost women's pregnancy health center. This annual event brings together local businesses, churches, and individuals to raise awareness and funds for the pregnancy clinic's medical services and resources.
The 2021 banquet will be chaired by local businessman Paul Clegg, Farmers Insurance agent in Yorktown. Paul's devoted history with Care Net, passion for the unborn, and deep community relationships make him the ideal chairperson for this inspirational event.
"I am honored to be the chair for this year's Peninsula 4 Life Banquet. Care Net is near and dear to my family's heart", states Mr. Clegg. "I look forward to building upon the banquet success of previous years to have our best banquet yet and create more awareness to help continue to serve moms and save babies on the Peninsula." The keynote speaker for the evening will be Ryan Bomberger of The Radiance Foundation. For more information or to donate online, please visit www.peninsula4life.org.
About Care Net Peninsula Care Net Peninsula, founded in 1986 as Peninsula Crisis Pregnancy Center, is a 501(c)3 nonprofit that provides no-costs services to women experiencing unplanned pregnancy. Care Net Peninsula operates a medical clinic in Newport News offering options counseling, ultrasounds, parenting support and more.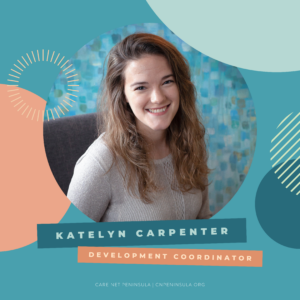 We are excited to introduce you to our newest team member, Katelyn Carpenter. Katelyn joins us as our Development Coordinator, and she is someone you will get very used to seeing and talking to as the year goes on.
Read More »